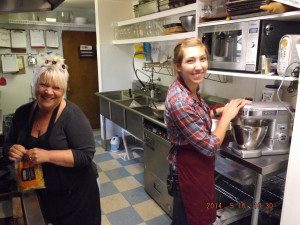 The Dining Room Steward is an essential member of our house staff! This individual will maintain a high standard of cleanliness in the kitchen & dining room throughout the day and entertain guests who pass through these areas. Please read the assigned duties & necessary abilities before submitting an application.
REPORTS TO: House Manager/Head Cook*
*meaning you will report to the Head Cook on an hour-to-hour basis while working, but your ultimate supervisor is the House Manager.
DUTIES:
Set tables before each meal
Assist kitchen staff with meal prep prior to each meal
Bussing tables during and after meals
Ensuring guests are satisfied during meals (Are drink pitchers full? Do serving platters need refilling?)
Washing dishes, running dishes through sanitizer, and storing them properly after each meal
Cleaning dining room after each meal (wiping down tables, salt & pepper shakers, chairs; sweeping floor; maintaining coffee service)
Assisting Head/Assistant Cook with any kitchen duties necessary throughout day
Assisting other house staff members as needed (housekeepers, house manager)
Ensuring health code standards are kept up on a daily basis under supervision of house manager (this means yelling at non-kitchen staff who may come into your kitchen and do something incorrectly!)
Closing kitchen down each evening (turning off all equipment, mopping, scrubbing walls, sinks, etc.)
Bear prevention
ABILITIES:
Hospitality experience (1+ years)/customer service mindset
Exceptionally high standard of cleanliness – personal & professional
Neat & cleanly outward appearance
Personal organizational skills
Ability to take direction
Ability to work as a team
Honesty and open communication skills
Self-starter
Flexibility – ability to change your personal plans/desires to suit all kinds of guest requests
Ability to work calmly under pressure
Ability to preform duties at high elevation
Please note that some of these duties have changed significantly as we adapt to life with Covid19. We will discuss these adaptations at interviews.
Think you'd be a good fit for the Dining Room Steward position? Review our employment expectations and submit an application for review! We'll be in touch shortly.