Denver Post, 8/21/03
Where can you hear the dinner bell ring from the large country front porch set against a backdrop of 140 pine and aspen covered acres bordering the Roosevelt National Forest? And, you can only hope you're within hearing range so you can go to a friendly and hearty mountain western-style dinner.
Ellen and Dan Morin are your hosts at Sundance Trail Guest Ranch near Red Feather Lakes, a beautiful 100 mile jaunt from Denver.
The dude ranch offers everything you could imagine from a true western locale and then some, which makes for guests who sit down family-style and have an appetite for their vittles.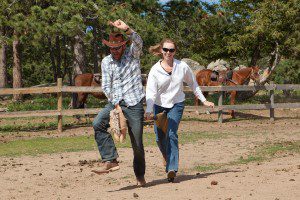 A Sunday night dinner usually includes steak, twice-baked spuds, a vegetable stir fry, homemade breads and you'll find at Sundance, every meal includes a freshly made dessert.
"Everything we offer our guests here is made from scratch," says Ellen Morin, and that goes whether they're serving you on the trail or hosting an outdoor barbecue."
When I spoke with Morin, she was planning a meal for a group riding to the Mount Margaret Trailhead, which will take a group of horseback riders through meadows, hills, tree groves and to a mountaintop at 9,500 feet. Some of the group may ride to nearby lakes. They might have wraps or sliced roast beef and turkey sandwiches. Desserts might include brownies, or fresh pumpkin cake. "We always have tea, lemonade and plenty of fresh fruit and cookies available at the house for between meals," Morin suggests.
The ranch can handle vegetarians, special diets, and the Morins have had whole families visit that are vegan, Diabetic and Atkins diet requirements get frequent requests.
Everything here is Western themed, with seven lodge or cabin suites. The ranch can accommodate up to 24 guests, including two suites in the lodge that are wheelchair accessible.
Recently, an 87 year old grandmother hosted her family for a one week reunion. Another family has returned several times because there are activities that each person has grown to love. Riding trails run throughout the area, plus there are guides to help you with hiking, fishing, jeep rides, whitewater rafting, rock climbing and even more adventures strictly for the kids.
In addition to programs with wranglers in horseback riding, you can learn archery, astronomy and leatherwork.
Come evening, curl up near the granite fireplace with a good book, or listen to western lore and learn about Isabella Bird who visited Colorado in 1873, and managed to herd cattle and climb Long's Peak.
The wranglers here are college students, former students, or folks who came and couldn't leave the lifestyle behind. You'll get logs of advice: Your stirrups are too long if your butt's sore; too short if your knees are sore; just right if they're both sore.
There are decks to appreciate the view, and at the Eagle's Nest, you can try your hand at pool, ping pong, horseshoes or cards. There's a Jacuzzi that's a perfect fit after a day in the saddle and you can sign up for a massage from either of the Morins.
The Morins offer the opportunity to visit a carefree western lifestyle. "Live the adventure and fall in love with the 'spirit of the West' at Sundance Trail.
During October you can schedule a one-night stay or one-week, just enough time to stir up your appetite and answer the dinner bell.