As Head Cook, you will be responsible for feeding up to 24 hungry Dude Ranch guests and 12-15 staff members! This job is fast-paced, hot, and cramped! We have hired both culinary professionals and self-taught home cooks for this position, both with great success! Our kitchen is small so you must be able to work efficiently and maintain cleanliness. You will have an assistant cook to help you execute all three meals, or you can delegate any meals, as long as quality and timeliness are not sacrificed. We do not micro-manage, which is why we require employees who have the ability to self-start. This means seeing what needs to be done and accomplishing it without any outside assistance (when applicable). Please review the below duties & abilities to see if you'd be a good fit.
---
Head Cook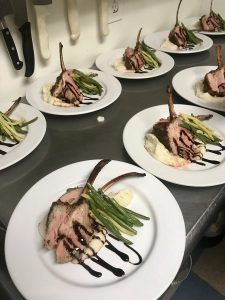 REPORTS TO: House Manager
DUTIES:
Create and Execute Weekly Menu Plan

Write basic weekly menu template
Allocate meal responsibilities (Will you cook all three meals? Will Assistant Cook take charge of breakfast?)
Ensure that all meals are prepared in a timely fashion and to guests liking
Ensure baked goods are prepared each day (Or allocate to Assistant Cook)

Oversee Kitchen Staff

Ensure that Assistant Cook and Dishwasher are following health code standards, preparing quality food in a timely manner, and cleaning kitchen daily to ranch standard

Draft Food order for House Manager's approval
Ensure that ALL guest dietary needs/desires are met.

This is NOT a Michelin Star restaurant. We are flexible to what our guests need and want – even if that means serving chicken nuggets or ketchup with steak. Our "product" is a delighted guest, not a fine dining plate presentation

Ensure Cleanliness & Safety in Kitchen

Follow Health Code Standards exactly
Maintain a high standard of cleanliness in kitchen at all times
Make sure that food items and leftovers are stored properly
ABILITIES:
Cooking Experience (5 years +) preferably for large crowds
Management Experience (1 year or equivalent experience)
Ability to work as a team
Ability to work calmly under pressure
Self-starter
Hospitality mindset
Exceptionally high standard of cleanliness
Organizational capabilities
Flexibility – ability to change your personal plans/desires to suit all kinds of guest requests
Ability to take direction from General Manager (Ellen) and House Manager (and not contradicting their directions to your staff)
Honesty and open communication skills
---
Think you'd make the perfect Head Cook? Please review our employment expectations before submitting an application. We will be in touch shortly. Thanks!