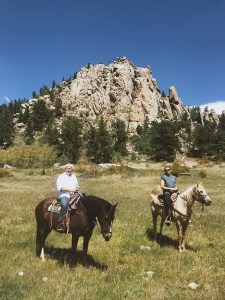 ---
We have just begun offering horseback trail rides for folks who are not overnight guests, and still working out the "scheduling wrinkles." Covid has left so many people with the desire to get outdoors!
So, when the number of overnight guests and the number of horses and wranglers available leaves us with room for more riders, we're testing to make sure that we can expand capacity safely.
Of course staffing is also changing as some wranglers have left to start the fall semester. And the MILLIONS of couples who want to get married RIGHT NOW adds fun craziness!
We are booking day riders only a week in advance, as our staffing schedule changes from week to week.
Overnight guests tend to ride in the morning. Many do not ride in the afternoon. So far, we seem to have more opportunities for day riders at the 1pm ride.
---
In area of unsurpassed natural beauty, one of the best ways to explore is on horseback. In addition, outdoor recreation in wide-open spaces is a safe way to enjoy regardless of season.
Horseback riding is an outdoor, non-contact pursuit where 6 feet personal distance is the norm.

The very nature of riding minimizes the risk of exposure and we've established policies and procedures that further increases our guests' ability to participate safely.
Horseback Rides

 Morning (9am) & Afternoon (1pm) Horseback rides are available by reservation only, up to 5 riders per group from the same household (or more by special arrangement). Call us at 970-224-1222 to check availability.
The rate for horseback riding is $50/person/hour trail time. (We do not charge for safety talk or arena "warm up" time.) Most rides are for an hour – it is considered very bad etiquette to cripple one's guests on the first ride! Gratuities are very appreciated but not expected.

 
Bathroom facilities are provided.
Call (970) 224-1222 with questions or to make a reservation.