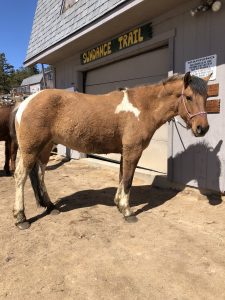 Stats:
Breed: Paint cross

Color: Dun Tobiano

Size: XL

Rider Size: XS – XL

Experience Level: Beginner – Intermediate
Personality: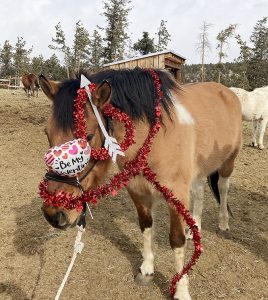 Boone is a very calm horse and is fantastic with nervous riders.  Never been on a horse before? Boone has got your back!  He is a fantastic leader and a protector of the herd, so he's always looking out for his buddies and riders.
On the Trail:
We were riding with a small group near the Foot Rock trail, and we rounded a corner to find a coyote on the trail. Many times when this happens, the coyote takes off in a cloud of dust, but this particular fella was refusing to move. His boldness was causing nearly every horse to spook, all except for Boone!  So one of the wranglers mounted Boone and the two chased the coyote away, and Boone never even flinched.
Riding Facts
Snaffle Bits
A snaffle bit is one of the most common bits used in riding, and most of the horses here at Sundance Trail are ridden in one.  While there are a variety of snaffle bits to fit horses and riders of all skill levels, the most common one consists of two pieces with D-rings where the reins and headstall attach that are jointed in the middle, as shown in the picture below.  A snaffle bit applies pressure to the corners of the horse's mouth when used lightly, and if you pull back harder on the reins, then the joint applies pressure to the tongue and roof of the mouth.