We're ready for you anytime after 2:00 PM. Come on in!
If you think you may be late for supper, give us a call and we can plan together.
GPS directions to the ranch from Livermore can be confused, and it is very dark here in the winter!
From the Forks Restaurant at Route 287 and CR 74e (Red Feather Lakes Road), here are directions to find our gate::
Check your odometer.
Follow CR 74e up the mountain approximately 17.1 miles.
As you approach, you may see the Magic Sky sign on the right side of the road.
The speed limit will change from 45 MPH to 50 MPH.
Our driveway is on the left, just a few feet BEFORE the 50 MPH sign.
Our sign says "Aspen Grove at Sundance Trail"
Disc golfers park in this first parking lot.
To find the Lodge or Barn, drive through the Aspen Grove parking lot to the red horse gate.
Go through the red horse gate (PLEASE close gate behind you!).
At the first "Y" in driveway, go to the left towards Lodge.
At second "Y" in driveway go to the right towards Lodge.
Welcome!
Driving to the Ranch from Denver (about 2.5 hours) or Cheyenne (about 1.25 hours)
Take I-25 to Exit #281 (Owl Canyon Road).
Go west on Owl Canyon Road 11 miles until it ends at Route 287.
Owl Canyon Rd is an adventure! About 5 miles down you will come to a circle and the "To RT 287 sign." The last mile of Owl Canyon Rd. the speed limit drops down and it is has several curves, but then ends at Route 287, which is paved and 65 MPH again! This is all newly paved road, not sure how well it will be plowed/maintained.
Turn right (north) onto Route 287.
North on Route 287 about 3.6 miles to County Rd 74e – Red Feather Lakes Road.
Turn left at the Forks onto County Rd 74e – Red Feather Lakes Road. (Landmarks are the Livermore Post Office and the Forks Restaurant.)
Alternate (Snow) Route from Denver or Cheyenne
Take I-25 to Exit #269 (Route 14).
Go west on Rt 14 into Ft. Collins until it feeds into Route 287 North.
North on Route 287 about 20 miles to the County Road 74E – Red Feather Lakes Road.
Turn left at the Forks onto County Rd 7e – Red Feather Lakes Road. (Landmarks are the Livermore Post Office and  the Forks Restaurant)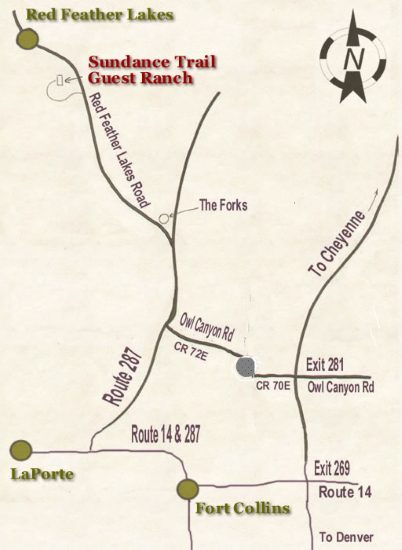 Driving from Fort Collins
North on Route 287 (College Ave.) about 20 miles past the Cache La Poudre River (10 miles past the Shell station at Ted's Place – do NOT turn at the Shell station! You will end up in Utah!) to County Rd 74e – Red Feather Lakes Road.
Turn left at the Forks onto County Rd 74e – Red Feather Lakes Road. (Landmarks are the Livermore Post Office and the Forks Restaurant)
Driving East from Steam Boat or Walden on Rt 14
When you get to the Glen Echo Resort Area, watch for County Road 69 on the left. Both the Ben DeLaTour Boy Scout Ranch and the Shambhala Center have signs here.
County Road 69 is an adventure. When it says 15 MPH, we recommend you obey! When climbing the switch-backs you may hear screaming – that's just you…
About 5 miles up, the road will split, stay to the right.
About 5 more miles up the road will end at County Rd 74e – Red Feather Lakes Road.
Turn left onto W County Rd 74e. We are about 1 mile down on the left.
17931 W County Rd 74e
Shuttle Service from/to Denver International Airport
Click here for shuttle Information and Rates