Some Helpful Hints for Planning your Colorado Dude Ranch Vacation
Overnight Guests, as well as Disc Golfers and Trail Riders may find helpful hints.
Check In & Check Out
Here is our riding profile and waiver form: https://www.sundancetrail.com/waiver/ We are requesting guests to complete it before arrival. This helps us to pick the right horse for you.
Summer Dude Ranch
Check-in Sunday 2PM or Wednesday 2PM.
Check-out Saturday around 12 PM
Fall, Winter and Spring
Check-in is 2PM.
Check-out is before 12 PM
Suggested Clothing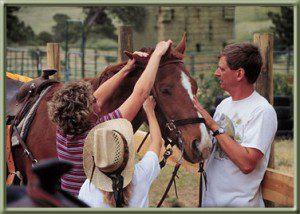 Our lifestyle is relaxed and very casual, but you will be most comfortable if you follow these general guidelines.
Riding requires:
long pants/jeans preferred
long sleeve shirts
some folks find bicycle shorts under their jeans most comfortable
sports bras can make trotting and cantering easier
either riding/cowboy boots, light hiking shoes or tennis shoes (No deep-tread hiking boots or loose fitting tennis shoes)
cowboy hat or sunscreen for ears, neck and nose
stampede strings for your hats are HIGHLY recommended!
stampede strings hang from the inside brow band below the chin — keeps hat attached to you in a breeze, so hat does not fly away and SPOOK the horses behind you! Can be found in most Country-Western clothing stores or in our Trading Post here.
riding helmets are available here
you are welcome to bring your own saddle and/or helmet if you prefer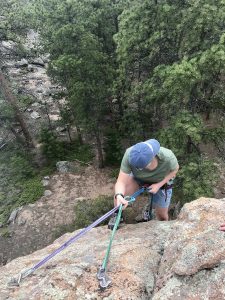 Hiking requires:
hiking boots, hiking shoes or tennis shoes (NOT cowboy boots),
sunscreen and a hat, wide-brimmed or cap
Everything else requires:
jeans or shorts
t-shirts
sunscreen (we can't repeat this enough)
swim suit
sun glasses (high altitude sun is rough on eyes)
Summer evenings can be cool – a jacket, sweat shirt or sweater
Fall, Winter & Spring can be unpredictable, with as much as a 40 degree difference between afternoon high and night low temperatures. Dress in layers.
Washers and dryers are available for guest use every day after 5PM – (yes, mom, you can go home with clean clothes!)
Other Items to Bring Along:
Water Bottle — Dehydration is a common malady at altitude, bring your own or buy one from our Trading Post and drink several quarts a day, especially in the summer
Cameras
Flashlights
Hand lotion – our air is dry
Sunscreen
We now have a retail liquor store on the property, and a variety of soda pop, beer, wines and spirits available on the ranch. You do not need to BYOB, but are also welcome to if you wish.
Guest suites have small refrigerators.
We make trips to town daily, and will be happy to have staff pick up other needed items.
You do NOT need to bring:
Your hair dryer – every bathroom has one.
Your banjo, accordion or bagpipes.
Did you notice that we didn't list watches or cell phones or pagers? You won't need them here — let your cell phone work exclusively as a camera!
Food
Special Diets:
We are happy to accommodate your special diet needs. Please notify us well in advance of these needs, and we will be happy to write our menu with you.
Fussy Eaters:
If you have a fussy eater, we will be happy to have a variety of simple "kid-friendly" foods available. Notify us in advance, and we will have your child's favorite foods available when you arrive.
Pets
We are pet friendly! Dogs and Horses are welcome here! Details are outlined here.

Weather
You can see the National Weather Service 7-Day Forecast here.
| | | | | | | |
| --- | --- | --- | --- | --- | --- | --- |
|  Our Historical Weather: | Jan | Feb | March | April | May | June |
| Avg. High Temp | 40°F | 45°F | 50°F | 60°F | 69°F | 80°F |
| Avg. Low Temp | 13°F | 18°F | 23°F | 32°F | 42°F | 51°F |
| Avg. Rainfall | 0 | 0 | 0 | 0 | 2.79″ | 1.75″ |
| Avg. Snowfall | 7.2″ | 6.3″ | 12.2″ | 6.5″ | 1.5″ | 0 |
| | July | Aug | Sept | Oct | Nov | Dec |
| Avg. High Temp | 85°F | 83°F | 75°F | 64°F | 50°F | 43°F |
| Avg. Low Temp | 56°F | 54°F | 45°F | 34°F | 23°F | 17°F |
| Avg. Rainfall | 1.56″ | 1.52″ | 1.05″ | 0 | 0 | 0 |
| Avg. Snowfall | 0 | 0 | 0 | 2.9″ | 6.9″ | 6.7″ |
Mountain weather means dressing in layers. Remember the temperature will drop 30 degrees when the sun goes down at night!
Work?
Mail, Verizon cell service, limited Wifi available.
However, "bringing work" with you, or being "on-call" for work is HIGHLY discouraged.