What time is check-in?
We're ready for you anytime after 4:00 PM. Come on in!
If you think you may be late for supper, give us a call and we can plan together.
What is the difference between a dude ranch and a guest ranch?
Excellent question! There is no difference at all: The term 'dude ranch' and the term 'guest ranch' mean the same thing (read more about the terms here: A Short History of Dude Ranching). If you're looking for great family vacation ideas in Colorado and want a 'dude ranch' or 'guest ranch', you can search either term and you'll find Sundance Trail Guest Ranch!
How do I decide which dude ranch is the best for my family vacation?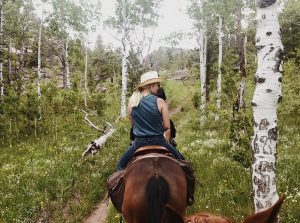 When researching your family vacation ideas, here are two articles that will help you make a decision: How To Choose The Right Dude Ranch for Your Family, and the article What Makes Our Guest Ranch Different?
Also feel free to call guest ranches that interest you – talking with owners about your family vacation ideas can be very helpful! (You can call us directly at (970) 224-1222 or or send a quick email to us from our Contact page.)
Can I come visit and see your place before making a reservation?
Absolutely! Or if you have a family member or friend who lives nearby, feel free to send them to inspect us. Give us a day's notice, so we can be sure someone is home to welcome you.  You can also check out our virtual tour to get a feel for ranch life!
Where are you located?
We are about 100 miles north of Denver (just a bit less than 2 hours from Denver International Airport), about 40 miles north of Fort Collins (45 minutes from campus), about 50 miles south of Laramie WY (about 60 minutes). Click here for our Map & Directions.
What do your rooms look like?
We all know when researching your family vacation ideas, a picture is worth a thousand words! View our rooms on our Accommodations page.  You can also use our virtual tour to walk through our lodge, rec room and around the ranch!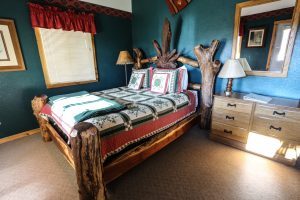 Tell me about your food?
The dining room has four tables. We eat family style. Platters are filled using the "Mae West" philosophy of "too much of a good thing is… just wonderful!"
Our diet is "hearty western" meaning meat and potatoes, but you will always find plenty of vegetables and salads as well. (We often have vegetarian staff.)
Our desserts and many of our breads are home-baked. You should always find home-baked cookies or sweets on the dining room buffet.
What about special diets or food preferences?
Ellen and Dan are both Registered Nurses, and very comfortable supervising the kitchen staff in preparing special diets, including vegetarian, vegan, gluten free, etc.
We can also work around food intolerance and allergies.
Fussy eaters? Give us a list of preferred foods when making your reservation, and we can easily accommodate just about any requests.
The grocery store is about 45 miles from here, so the key is adequate preparation time! If you can tell us your dietary needs when you make your reservations, we can be prepared.
Tell me about your Colorado horseback riding program.
First, this is not a nose-to-tail riding program! Our program is small enough to accommodate both proficient riders and beginners.
Whether you prefer to walk at a leisurely pace and enjoy the views, or prefer faster jogs and lops, at Sundance Trail Guest Ranch in Red Feather Lakes, CO, we make both dreams come true!
Our horseback riding program uses a series of six steps to bring beginners from the ground up, starting with basic Dude Ranch Western Riding and ground manners. These steps are based on principles of Western Riding taught by the American Association of Horsemanship Safety and the Dude Ranchers Association Wrangler Safety Certification programs. More details on our
We have two different lifestyles, according to the seasons. We live a dude ranch lifestyle in the summer, with information listed on the left side of each page, and we live a quieter "Country Inn" or "Bed and Breakfast" in the fall, winter, and spring – details are listed on the right side menus of each page.
What about summer activities?
View our Summer Activities page for family vacation ideas and inspiration that everyone can do together.
Fishing?
Yes. There are four lakes in the Roosevelt National Forest less than 5 miles from here. For the serious fly fishermen, the Cache la Poudre River is 11 miles – a "Wild and Scenic" River. We have equipment that you can borrow at no charge. Our Colorado dude ranch is not allowed to guide fishing trips, but can refer you to excellent local fly fishing guides.  A Colorado State fishing license can be purchased at several locations in town.
How does tipping work?
We are often asked by guests about how gratuities should be handled. This can be an uncomfortable topic – this note is to help you be informed, but not feel pressured. If you feel you have received exceptional service, you may show your appreciation by leaving a tip for our staff. Unless you specify differently, tips are divided equally among the staff. As a guideline, many guests leave a fifteen or twenty percent tip; however gratuities are left entirely at your discretion.
Yes! Yes!
Scenery?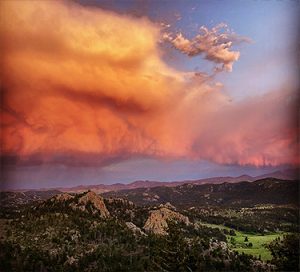 It is very hard to describe God's beauty in words! Please visit the virtual tour or our video and photo albums listed at the top of this page.
What should I pack?
You should find helpful hints for packing on our Planning Tips page.
Contact Sundance Trail Guest Ranch in Red Feather Lakes, CO
Sundance Trail Guest Ranch is a Colorado dude ranch offering the best family vacations with horseback riding and other fun things to do in Colorado!
If you're looking for outdoor adventures or family vacation ideas in Colorado, request our Dude Ranch brochure (you can also download it in a PDF here), and call us at at (970) 224-1222 or (800) 357-4930 today! Prefer email? Use our Contact page. We can't wait to hear from you!