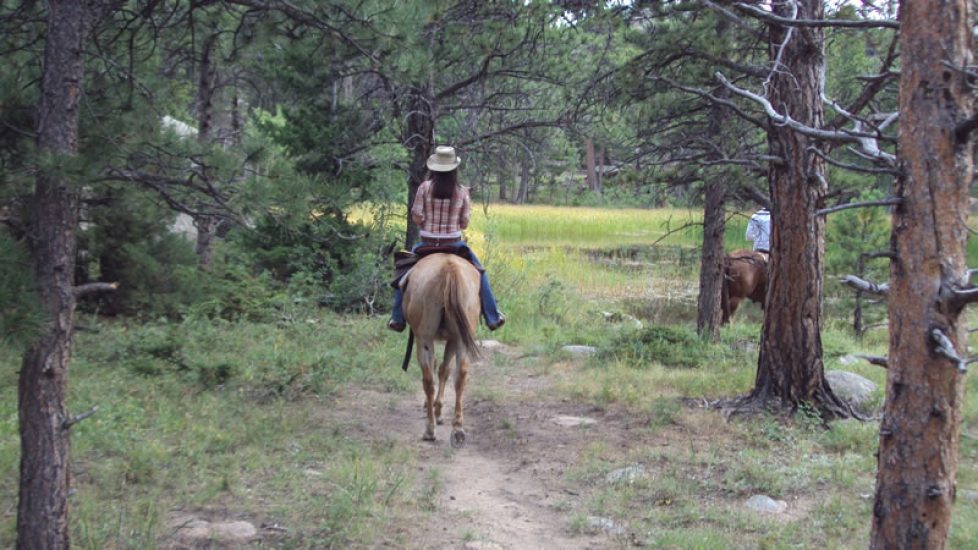 You will not need your watch – take it off!
Sunday
Afternoon
Guests arrive & settle in rooms
Take a deep breath!
Tour ranch & meet horses & staff
"Barn Orientation Class" – Ground Manners, Catching, Haltering, Leading & Tying Knots
Evening
Hospitality & appetizers on front porch
Supper & ranch orientation & meet folks
Introduction to Cowboy Poetry
Sunset hike
Dessert for those who return (Just Kidding!)
Monday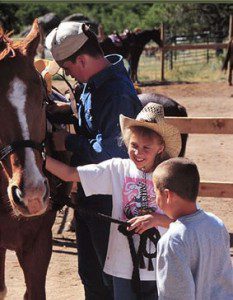 Morning
Breakfast
Barn orientation – "Horse Instincts and Communication"
Arena demo and practice (Walk, Whoa, Turn)
First ride for skills practice and/or arena time
Afternoon
Lunch at picnic tables
Start horseshoe tournament!
Ride horses into National Forest: Bubba's Hill, Lady Moon, Hunter's Camp, or Aspen Canyon.
Evening
Supper
Cowboy singing with Lars & Amy Larson around the campfire with s'mores fixins.
Tuesday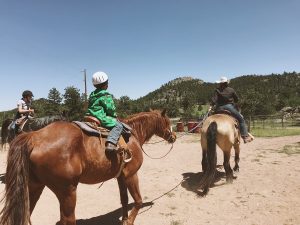 Morning
Breakfast
Rock Climbing Class at Stony Point
Afternoon
Lunch
Horse grooming & tack lesson (This is where we teach guests how to do our chores!)
Ride to Bubba's Hill, Lady Moon, Hunter's Camp, or Aspen Canyon
Evening
Kids cookout with scavenger hunt, field games, and storytelling around the fire (possibility for camp-out in the tipi if kids are interested)
Adult hospitality and candle-lit dinner (generally interrupted at least once by kids to show off their seven kinds of poop found on scavenger hunt… horse, donkey, goat, sheep, rabbit, chicken…etc.)
Adult quiet evening of conversation on front porch to the sound of kid's laughter at the campfire.
Wednesday
Morning
Breakfast
Horse grooming and tack
Ride to Elkhorn Creek or Lady Moon Trail Head

This is our all-day ride! Around 5 1/2 hours of saddle time (7 miles out and 7 miles back)
This ride is strictly for ages 12 and up. We rarely make exceptions, as kids under the age of 12 (unless very avid riders) tend to get tired and sore before we make it to lunch.
All riders will be evaluated for ability to do the all day ride.
All riders 12 and under will take their morning ride, meet parents at the trail head for lunch, and then go to Red Feather Lakes Village for an ice cream cone or return to the ranch and ride again.
Afternoon
Lunch at Mt. Margaret trail head
Ride, hike, play
Return to fish, rifle & trap range
Some prefer to nap, read or soak in Jaccuzzi after 5+ hours in the saddle!
Evening
Appetizers & Dinner
Square dancing lesson at the carriage house gazebo!
Thursday
*Horses day off for full-week guests
*Half-week guests may choose to ride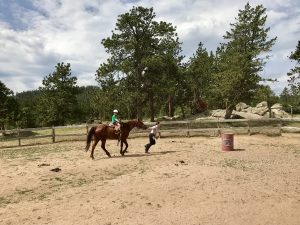 Morning
Breakfast
Riflery, rock-climbing, or sightseeing Old Town before whitewater rafting
Riding for half-week guests
Pack Lunches before departing the ranch for the day
Afternoon
Rafting or Sightseeing

Old Town Ft. Collins
Rocky Mountain National Park
Laramie Territorial Prison

Some rafters stay in town to explore, shop and/or enjoy dinner in "Old Town" Ft. Collins after their white water adventure.
Dinner & free evening to relax or soak in Jacuzzi
Friday
Morning
Ride to destination of your choice (There are lots and lots of trails still to explore!)
Afternoon.
Lunch at "Lunch Rock" in the forest
Last Chance to try what you haven't done yet or would like to try again!

Ride, Hike, Fish, Rifle & Trap range, Archery, Roping lessons, Horse shoe tourney
Evening
Dinner
Campfire with Cowboy Poetry
Saturday
Morning
Breakfast
Gymkana Arena Games – The Sundance Dude Rodeo!
Start Check-out
Box lunch or buffet available
Hugs & Farewells
*All rides are subject to cancellation in the case of inclement weather