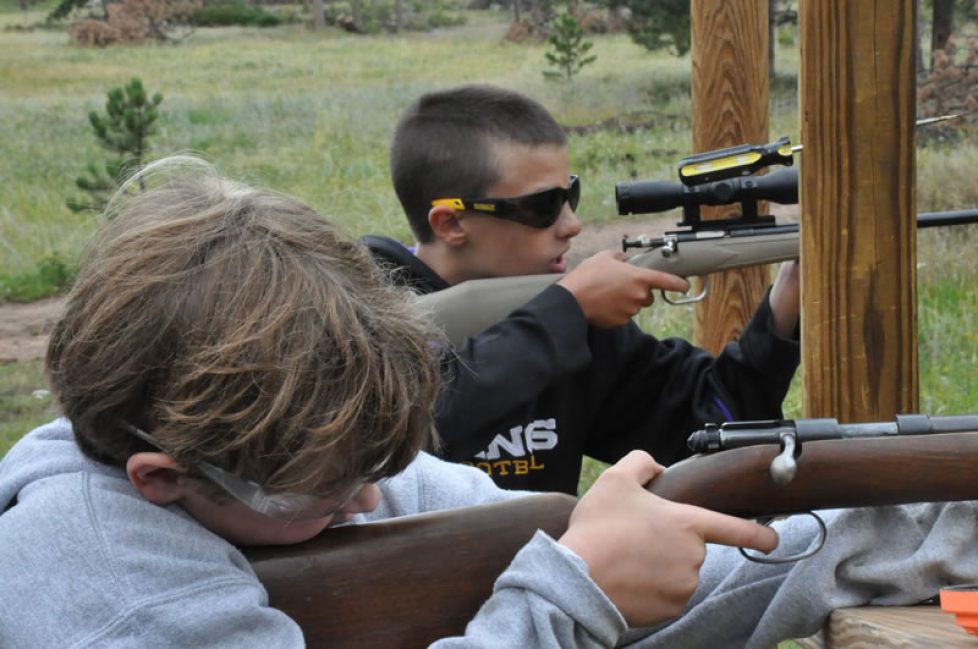 Day Rides now being offered at Sundance Trail Guest Ranch. Read More
---
We offer a lot of activities at Sundance Trail Guest Ranch. In addition to a complete dude ranch riding program, we offer a lively list of activities including something for everyone in an unstructured atmosphere.
Lerarn-to-Tack-Kids-Ranch-Holiday
Horse Back Riding (Year Round)

Our guest ranch Riding Program is based on three beliefs:
Horse back riding should be fun!
Just as important as having fun is being safe!
Learning to ride is a never-ending learning process.

Learn-to-Tack is just one lesson you'll learn

Private Riding Lessons and Coaching (Year Round)

Our wranglers enjoy teaching and coaching. They'll have you up in the saddle, and enjoying the ride in no time! Over the week, you then grow in your riding skill.

River Rafting (Summer Season)

Experienced guides take dude ranch guests on raft trips ranging from float trips to exceptional white water expeditions on the Cache La Poudre River.

Shooting & Archery  (Summer Season)

For those of you dude ranchers who have mastered the 22 caliber rifles and "Big Bertha" (our 50 caliber black powder muzzle loading civil war replica), we can provide lessons and the challenges of flying clay targets! We also offer an archery range and Tomahawk Throwing.

Rockclimbing

Rock Climbing  (Summer Season)

Join an Introduction to rock climbing class! In this "hands on" class learn knots and proper belay techniques, basic movement techniques, communication, terminology, an introduction to bouldering, and outdoor safety awareness. We provide all special shoes, ropes, helmets and all of the other technical gear.

World Class Disc Golf (Year Round)

Have you tried frisbee – disc golf? This game adds a whole new element of fun to our dude ranch experience. Come try it!

Murder Mystery Weekends (Fall, Winter and Spring Season)

One of our favorite winter time activities is Murder Mystery game weekends. Once a month or so, when we have 8 to 12 willing suspects, we find a poor "victim" sprawled out nearby murdered, and often with the first clue nearby…

Weddings & Elopement  (Fall, Winter and Spring Season)

Elegant wedding? Ornate wedding? Nope.  A huge theatrical spectacle wedding? Not on your life! Genuine western dude ranch hospitality? Now we're talking the same language!

Reunions (Fall, Winter and Spring Season)

Your reunion can be the "all-inclusive" family vacation of your dreams. Just think, a Colorado Mountain Lodge vacation on a Colorado dude ranch!

Hiking (Year Round)

Sundance offers several hiking trails on the property as well as trips to nearby trail heads for all levels of hiking enthusiasts.

Games (Year Round)

-Horseshoes
-Pool Table
-Foosball
-Board Game Collection
-Tetherball
-Cornhole
-Scheduled games for kids program

Jacuzzi (Year Round)

There is no better way to relax after a long day of getting dirty and tired! Enjoy a nightcap while star-gazing from our spacious deck

Sharing Marshmallows

Campfires  (Summer Season)

S'mores, anyone? We do several scheduled campfire evenings each week with different entertainment offerings. Cowboy singing, poetry, and a special kids campfire are offered each week.

Fishing  (Summer Season)

Fun Fishing in nearby lakes for trout and serious Fly Fishing on nearby "Wild and Scenic" river

Massage  (Year Round)

Enjoy sharing their practice of Massage Therapy, with focus on relaxation, injury rehabilitation and management of chronic pain.

Dan & Ellen Morin (Owners) Square Dancing!

Square Dancing  (Summer Season)

Work off your dinner with our professional square dance caller! We teach all the basic moves and advance to more difficult dances as the night progresses. The staff will also teach a special line dance at the end of the evening.

Horseback Riding for Girl Scouts  (Summer Season)

We offer the Junior Rider Badge for Girl Scouts. Our purpose in providing this program is twofold: Provide girls an opportunity to explore and learn about Western Horsemanship and provide girls an opportunity to learn and build fun memories with their parents and their troop.

hangin' out!

Relaxing in a Hammock! (Year Round)

There is an abundant amount of wildlife and scenery to take in from the comfort of one of our hammocks. Catch sight of a beautiful Stellar's Jay or just take a quick nap in the afternoon sun.