Horseback Riding Near Fort Collins!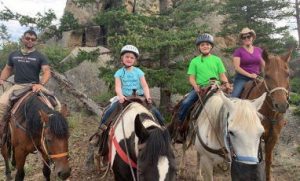 Looking for things to do near Fort Collins?
*  How about trail riding horseback?
* Grab a friend and come horseback riding in Red Feather Lakes!
* The Rocky Mountains are stunning – come enjoy the natural beauty, the smell of pine, the sounds of the wind, scenic mountain trails, and the power of your horse underneath you.
* Our ranch riding stable is located on the Roosevelt National Forest in Red Feather Lakes, about 45 minutes north of Fort Collins.
* Yes, horseback trail riding near Fort Collins!
---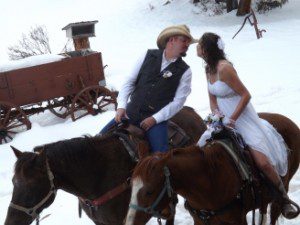 Our stable now offers:
* Not a nose-to-tail program, riding gates depend on riders' horseback proficiency and weather/ground conditions
* Small groups – a maximum of 7 riders per wrangler per group
* One or two hour horseback trail rides twice a day, starting at either 9am or at 1pm.
* Longer trail rides may be available – call to discuss details.
* Private lessons can be made available – we often have senior level wranglers who are excellent teachers
* Box lunches can be made available
---
Book your reservation:
1. Call to book your reservation. 970-224-1222
2. We will ask for a 50% deposit to book your reservation.
3. Please complete Rider Profile before arriving and we will assign the best fit horse for you.
---
---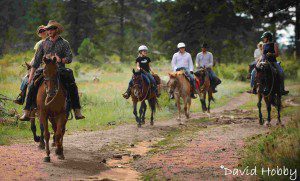 New riders have about 1 hour of preparation
1. When you arrive, we will share with you the "Dreaded Dreadful Safety Lecture" (A once-in-a-lifetime discussion of horse instincts and communication).
2. Practice "starting, stopping and steering" on horseback to be sure your horse fits you, and to warm up, before leaving the arena
3. This preparation time is not billed, only trail riding time.
---
Safety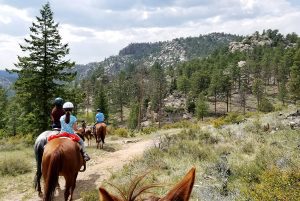 * Please dress properly. Long pants, closed-toed shoes (Tennis shoes are ok. Sandals are NOT! Hiking boots with big waffles can get stuck in the stirrup).
* Sun block!
* Water bottle!
* We do not take backpacks, purses, etc. on the trail.
* Cell phones must be put in silent during the duration of your horseback ride.
* We do not "pony" horses (an adult riding one horse while leading another carrying a child).
* We do not allow "double riding" on one horse (for the same reason we now use seat belts in cars)
* We do not ride when winds are >20 mph, temperatures less than 30 degrees or during thunderstorms.
* We do ride in light rain and snow.
* All rides are led by a qualified wrangler who has attended (and certified by) the Dude Rancher Association Wrangler Safety Program.
* All of our wranglers are expert photographers and will be happy to take pictures of you and your horses.
---