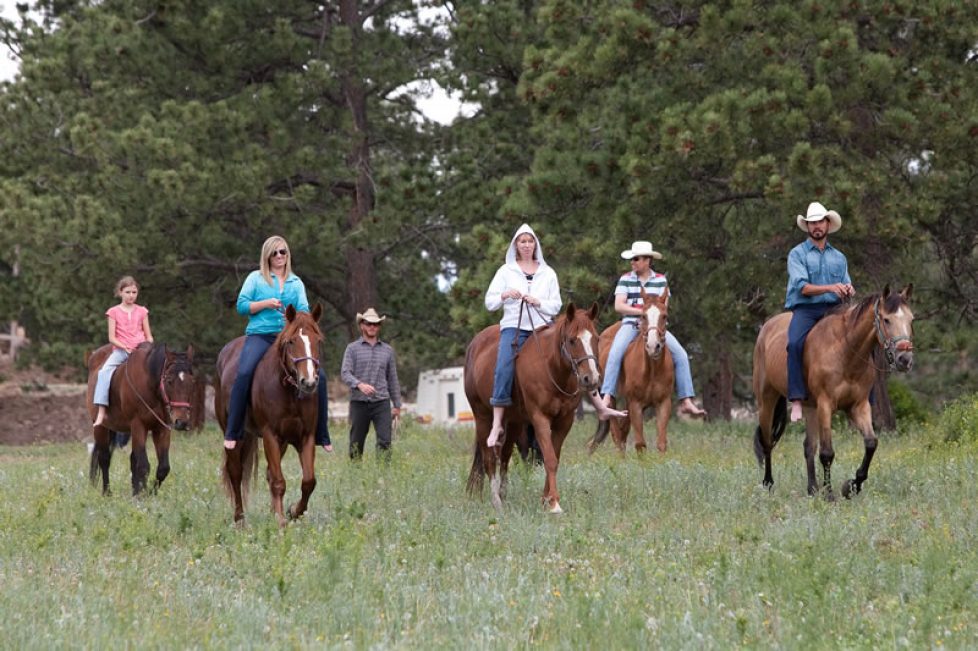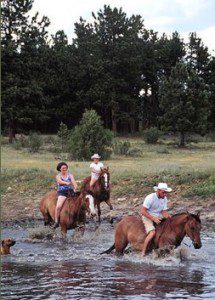 Do you allow non-overnight guests to ride?  YES In our Country Inn Season.  Call 970-224-1222 to arrange.
Trail ride throughout the stunning Rocky Mountains when you come to Sundance Trail Guest Ranch in Red Feather Lakes, CO, a true highlight for beginners and advanced riders alike!
Our guest ranch Riding Program is based on three beliefs:
Horseback riding should be fun!
Just as important as having fun is being safe!
Learning to ride is a never-ending learning process.
Never been on a horse before?
Or at least not in few years? No worries! Our wranglers enjoy teaching and coaching. They'll have you up in the saddle and enjoying the ride in no time. Over the week, you will grow increasingly comfortable in your riding skills.
Intermediate and advanced riders can become even more knowledgeable, if you wish, with coaching and feedback available.
Ours is not a "nose-to-tail" program!
Some dude ranches do not allow their guests to jog or lope. Our horseback riding program includes a set of classes that build your skills and confidence each day. Many people are loping by the end of the week! Take a look at our picture albums and you'll see lots of horseback riding and not many in lines.
So… head on down to the corral where our wranglers will talk with you, assess your skills, and match you with one of our fine western horses. They will then start you out with a lesson in the guest ranch arena to make sure that your horse fits you and your riding ability.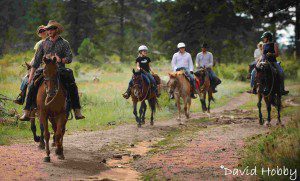 The horse that best suits your needs will then be yours throughout your stay.
Our Wranglers work under the direction and supervision of the owner and Head Wrangler Dan, who was originally certified by the American Association of Horsemanship Safety, and now maintains certifications as a Wrangler Safety Certification Instructor with the Dude Ranchers Association.
We offer family rides, rides of various gaits from walking to loping, short rides, longer half-day or all-day rides as well as scenic trips with lunch or breakfast on the trail.
Becoming a good horseback rider, not just a passenger, is a great feeling!
Contact Sundance Trail Guest Ranch in Red Feather Lakes, CO
Sundance Trail Guest Ranch is a Colorado dude ranch offering the best family vacations with horseback riding and other fun things to do in Colorado!
If you're looking for family vacation ideas or specifically to go horseback riding Colorado, request our Dude Ranch brochure (you can also download it in a PDF here), and call us at at (970) 224-1222! Prefer email? Use our Contact page. We can't wait to hear from you!
*All rides are subject to cancellation due to inclement weather