Elegant wedding? Ornate wedding? Nope.  A huge theatrical spectacle wedding? Not on your life! Genuine western dude ranch hospitality? Now we're talking the same language!
Elope to Colorado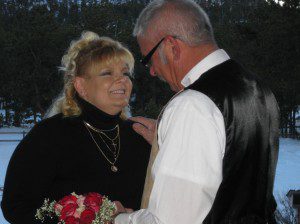 Your Elopement Wedding, Life Commitment and Renewal of Vows are:
Private & Small – Your wedding can be just the two of you, or maybe a few friends and family members.
Fun – Ride horses, enjoy a simple ceremony and celebration, then sip champagne in the hot tub!
Simple – On the Elopement Wedding Planning Page that follows, we have listed the steps and a number of simple choices for you to make.
Affordable – Simple does not have to cost as much as extravigant
Worry-free – Stop at the County Clerk Office and pick up your license on your way in. Requirements for Colorado Marriage Licenses are very simple; no waiting or blood tests. We will take care of all signatures and filing details with the Larimer County Clerk.
Romantic & Happy – Elope to focus on each other, not the stress of "a perfect performance"; everything can be joyful, carefree, stress-free.
Quiet & Beautiful Miles from the traffic and noise of the city; the Colorado Rocky Mountains are our back-yard… and our front yard! View our pictures: majestic vistas, clean air, sunshine 300 days a year.
Close but so far away – Where to elope? Lost in the beauty of the Colorado Rockies, yet only two hours from Denver International Airport.
We are happy to provide you a simple environment and create simple ceremonies to celebrate the start of your marriage, life commitment or renewing of your vows.