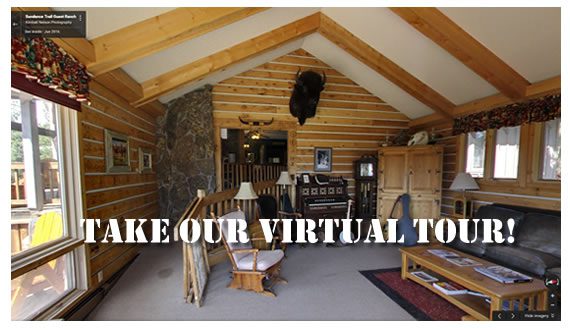 Google Virtual Tour of our Dude Ranch
For either a Colorado dude ranch family vacation or a Colorado Mountain Inn bed and breakfast get-away, you will find our home cozy and relaxing. Use our virtual tour to move through the Main Lodge, several of our guest suites, the Recreation Barn, and around our property!
Guest Cabins & Suites
Our quaint and cozy dude ranch suites are all equipped with private baths, entrances, and decks. Daily maid service is included, and our small guest-to-staff ratio ensures that all of your family's individual needs and requests will be fulfilled promptly. All suites offer AM-FM radio, refrigerator, and coffee bar. Our dude ranch is pet friendly, which means your family member will be welcome in any suite you choose.
Follow the link to view pictures and descriptions of each available suite:
Main Lodge
Sundance Trail is a small guest ranch; our Mountain Lodge suites and guest cabins can host around seven families or twenty-four guests.
As you drive onto the property, the Main Lodge welcomes you from beyond the pines. This building houses several guest suites as well as our dining room and parlor. After a trail ride, the Main Lodge and adjoining decks are an inviting place for a fresh cup of coffee, reading, playing cards, swapping stories, or just enjoying the view. After sundown, the stars come out and set our Colorado sky ablaze.
Recreation Barn
Just a stone's throw from the lodge is our Recreation Barn.
After a fun day of ranch activities, a trip to the Jacuzzi is a welcome and relaxing experience. The Recreation Barn is where we play a game of Foosball, horseshoes, or shoot pool. This room also hosts our boot barn, where guests can find the perfect loaner pair to use throughout the week! Our Recreation Barn is equipped with satellite internet, although we hope you won't have time to notice!
The Rec Barn is where you will find our gift shop, guest laundry service, and massage suite.
Sundance Trail is a wheelchair friendly dude ranch!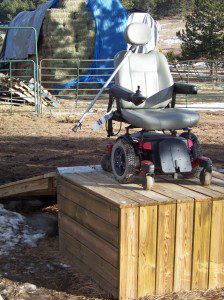 Review of dude ranch Spirit of the West in Paraplegia News
Ellen and Dan are Registered Nurses; both are knowledgeable about the adaptation needs of guests who use mobility aides. All of our main buildings use ramped decks and all main pathways are maintained and packed.
Other helpful hints:
A word of caution: It is very important that our guests arrive with expectations that we can meet. This is a ranch in the mountains. The nearest concrete sidewalk is about 45 miles from here. We have pathways and jeep trails with dirt, sand, pebbles, rocks, slopes, tree roots and piles of horse poop. Please feel free to call either Ellen or Dan at (970) 224-1222. We will be happy to discuss our capabilities and our limitations.
We live at 8,000 feet. Commercial air planes are pressurized to this altitude. If you are comfortable flying, you should be comfortable here.
We are happy to refer you to a Durable Medical Equipment Company in Ft. Collins who will deliver and set up any equipment you need.
Our kitchen is very flexible and will be happy to accommodate any dietary restrictions with advance notice.
Our staff is mostly college students. They are not trained medical personnel. They are eager, excited to try new things, and they learn quickly.