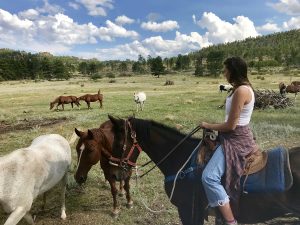 At Sundance Trail Guest Ranch, we are more than happy to answer any questions that you may have or just to chat about your expectations! Please don't hesitate to contact us through any of these methods.
---
Ranch Phone
(970) 224-1222 (Text or Voice)
Wedding & Event Phone
(970) 556-5053 (Text or Voice)
Connect
Email: office@sundancetrail.com
Reservations
Reservation Form
Directions
Detailed Driving Directions
---
General Contact Info
For either Summer Dude Ranch or Fall, Winter, Spring Colorado Bed & Breakfast reservations or for more information feel free to contact us anytime. We would love to tell you about our life here!
---
Mailing Address
Sundance Trail Guest Ranch
17931 W County Rd 74e
Red Feather Lakes, CO 80545
Connect
Email: office@sundancetrail.com
Facebook: Like Us on Facebook
Instagram: Follow Us on Instagram
Newsletter: Signup for our Quarterly Newsletter
Virtual Tour
Employment
Information & Application
Brochure
Download Our Brochure
Request a brochure be mailed to you.
---
Send Us A Message
---
Reservations
Ready to make a reservation?