A Colorado Dude Ranch may be the Best Family Vacation for Your Outdoor Adventure:
It can be tough to decide which dude ranch outdoor adventure is the best for your family vacation in Colorado! Here are several ways that Sundance Trail Guest Ranch is different from our neighbors. What makes us different may NOT make us better than others for you! Look for a good fit:
Size – We are a Small Colorado Dude Ranch:
Meet other guests that come from all across the United States and the world and enjoy conversation.

Relaxing beneath the mountain sun

House Rule: You may not ask or tell what you do for a living.
No name tags, no crowds, and no lines.
To keep your experience special, we only accommodate up to seven families at a time (or 24 people maximum). This means that while our ranch is small, it gives each individual and family that much more space to play! (In fact, you will have about 887,140 acres of National Forest to play in!)
Our Relaxed Atmosphere:
Unplug from your cell phone and re-connect with your family. We strongly encourage you to turn the phone off and put it in your dresser drawer with your socks. Be here. Be here now.
We have wifi available for those who need to check in with work or other family. We have adequate but very limited bandwidth.
Don't even pack your watch. You won't need it. We ring the dinner bell for the most important activities of the day!
While we offer a packed weekly schedule of outdoor adventures, activities, and things to do in Colorado, you're not locked into a rigid schedule – every activity is optional, and there is a good balance of "unstructured time."
The best vacations are relaxing!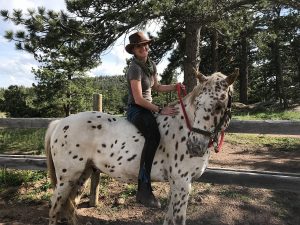 Our Flexible Horseback Riding Schedule:
You may not have ever ridden a Western horse before, or you may own a horse and ride every day! Either way, because Sundance is such a small ranch, and because we keep riding groups small, we are able to be very flexible in our Colorado horseback riding program and in most activities.
Our Outdoor Adventures:
White Water Rafting
Rock Climbing & Belaying (with lessons)
Hiking
Fishing
Exploring
Disc Golf
Rifle & Shot Gunning (with lessons)
Jackalope Hunts!
We Love to Teach:
Our barn is an excellent place to develop your horseback riding skills:
Beginners begin with the basics – most are jogging and loping by the end of the week.
We coach the proficient – if desired, coaching is always available.
We believe that horseback riding should be fun, should be safe, and that learning never ends.
Not a Nose-to-Tail Program: Our wranglers will never tell you to "get in line." We don't believe in lines! (If you enjoy lines, I guess that you'll have to go to Disney…)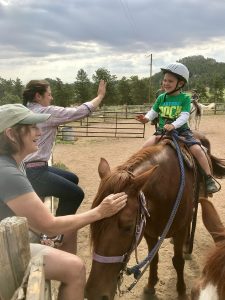 Concern for Your Safety:
Our barn follows the standards of the American Association of Horsemanship Safety,
The Sundance Wranglers are Safety Certified by the Dude Ranchers Association,
Dan (Sundance owner) is a certified Instructor in the DRA Wrangler Safety Certification program.
Frankly, you should not consider a dude ranch that does not have safety certification from an outside organization. (There are a number of fine organizations that provide standards and safety certification programs.)
Our Concern for the Environment:
The environment is not "something out there," or covered with concrete and asphalt. Our life is part of the Rocky Mountain moraine ecosystem.
You will not see trash on your trail rides. Ever. Only very rarely will you see any other people!
We live the "No Trace" Ethic, which means that we do our best to leave a very small footprint in our National Forest. We leave nothing in the forest and we take nothing from the forest – except, of course, good memories and good pictures!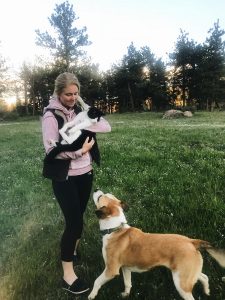 We're Pet Friendly:
We are the only Colorado pet friendly dude ranch that we know!
Your dog, if he/she is well mannered around children and other animals, is welcome! Give us a call and we can discuss details. Or visit our Dogs and Horses Friendly rules page.
Your horses are also welcome! Call us about hay, vaccinations and coggins.
We're Close to the Airport:
How much of your vacation do you want to spend "getting there"? Although lost in the mountains, we are less than a two hour drive from Denver International Airport.
We're Family Oriented:
Our wrangler staff has three objectives. They want you to get:

VERY dirty,
very tired, and
maybe just a bit sore!

Our housekeepers *( we call them Kangaroos) want you to find:

the bathroom sparkling clean
your bedroom comfortable and
the bed crisp and warm.

Dining Room ready for dinner!

The kitchen staff follow Mae West's philosophy:

"Too much of a very good thing is…. just wonderful!"

We enjoy sharing our lifestyle with people, especially families. We enjoy helping families play together.
If you are looking for a "drop-off" children's program, then Sundance Trail is not the best Colorado family vacation ranch for you.
Taxes:
We have no city, hotel or restaurant taxes – just 3.7% state retail tax.
Association Memberships:
We belong to

the Colorado Dude and Guest Ranch Association,
the Dude Ranchers Association,
the Larimer County Horseman's Association.

This means that we take pride in maintaining high standards of guest safety, horse health, cleanliness and business ethics.
Come Visit Us:
This is our home, we live here and we're open year-round.
You are very welcome to come visit us, see our home, and meet the staff and horses. Just give us a call!
If you're looking for outdoor adventures or family vacation ideas in Colorado, request our Dude Ranch brochure (you can also download it in a PDF here), and call or text us at at (970) 224-1222 today! Prefer email? Use our Contact page. We can't wait to hear from you!