Looking For More Info On Our Affordable
All-Inclusive
Colorado Family Dude Ranch Vacations?
Travel Advisor Details & Quick Booking Tips
Click here to jump directly to the Travel Advisor booking check list.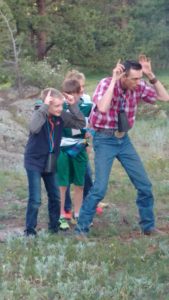 Does this sound familiar? "The harried urban dwellers find new calm as they trade offices, subways, and traffic for saddles and mountains. Ranches are a refuge where ragged, exhausted people can recover their health and vigor." [The Dude Rancher, vol. 6 #7, 1938!]
No crowds in the mountains, no lines in the forest, social distancing is built into your saddle, clean air, stuff to do, get dirty, tired and saddle sore safely!
How do you choose? Well, it just so happens we have an article you might enjoy: How To Choose the Right Colorado Dude Ranch for your Family.
Also, read others' reviews from Trip Advisor and Google.
Many folks need to keep connected to their work, some for only a few minutes each day, others to attend important zoom/video conference meetings. Our "Guest Office" (it's a bit small to be called a "Business Center"!) complete with high speed internet, wireless printer/copier/scanner, office supplies, new furniture, private bath. It is a quiet office, away from the activity and noise of the lodge and barns, with privacy.
Both Dan & Ellen are Registered Nurses: Dan also holds a Masters in Public Health. Ellen is a Nurse Practitioner for our county health department which keeps us fully up-to-date.
What Makes Us Different?
A guest ranch vacation should be affordable and all inclusive – at our ranch you will know all of your costs before you book. No surprises when you check out!
Size – we are the smallest Colorado Dude Ranch, which allows us to be more flexible in meeting special needs, and more relaxed in our lifestyle. This can be the ideal spot for your family reunion.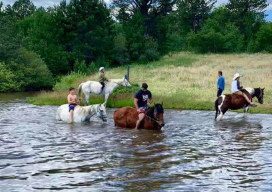 Trail Riding Program – based on our love of teaching. We accept riders of all skill levels, and we challenge them all! Beginners welcome, but know that this is not a nose-to-tail program. Coaching is available for the proficient, if desired.
Pet friendly – bring your horse or your dog.
Family Orientation – Our summer children's program is designed to help families play together. If you are looking for a children's "drop-off" program, this is not the Colorado guest ranch for you.
Wheelchair friendly – Accessibility is a high priority at our ranch. We have suites that are wheelchair friendly, with handicapped accessible bathrooms, sinks and showers, and we are very comfortable with children who have special needs.

All guests are afforded an opportunity to connect with their horse

Service Minded — we've worked with several non-profits including Wilderness Restoration Volunteers, Make-a-wish Foundation and St. Jude's to offer eco-friendly vacations and guest ranch experiences for both adults and children.
Close to the Airport. From Denver International, you can be here in less than 2 hours.
Even more information on What Makes Us Different!
Affordable All-Inclusive Summer Colorado Dude Ranch Vacation: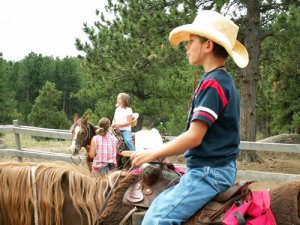 Horseback riding on National Forest Trails
Horseback Riding Lessons
Mountain hiking
Rock Climbing and Belaying Lessons
Seasonal white-water rafting
Nearby trout fishing
Resort Level Golf nearby
Target & Trap Shooting
Professional massage
Archery & Tomahawk Throwing
Dedicated kids program and activities
And… of course…. Hammocks & Horseshoes!
Fall, Winter & Spring Country Bed and Breakfast: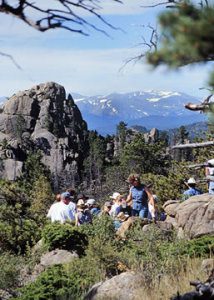 Murder Mystery Week-ends
Romantic get-Away Weekends
Horseback riding in the National Forest
Horseback Riding Lessons
Mountain hiking
Nearby trout fishing
Enjoying a book on a sunny porch
Disc Golf
Target & Trap Shooting
A family of 20-24 has exclusive use of the entire ranch!
Kids can ride horses, and play in a safe dude ranch environment with acres and acres of room to
roam.
Our wranglers will provide a mix of structured activities and unstructured free time.
We do the cooking and the dishes and the cleaning – moms can relax and even play
Separate suites for each family for quiet times, and comfortable common areas for visiting.
Denver International Airport, in the heart of the United States, is easy to reach from just about anywhere in the world.
Your Destination for Events of All Kinds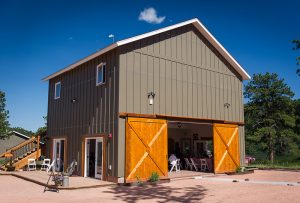 Destination Weddings
Family Reunions
Wellness Retreats, including Yoga, Wellness, and Equestrian Assisted Therapy (EAP) Retreats
Parties and Corporate Events
Click here to visit our Aspen Grove website for more information
We live two different "lifestyles"
In the summer, from the end of May until the beginning of September, our

"Dude Ranch" lifestyle is like summer camp, with activities for the whole family every two hours.
These activities are designed to get guests VERY dirty, PRETTY tired, and maybe a LITTLE saddle sore.
Guests usually stay 6 nights/7 days (Sunday through Saturday) or 3 nights/4 days (Sunday through Wednesday or Wednesday through Saturday), but we can be flexible!

In the fall, winter and spring, from mid-September until mid-May,

we are open as a quiet Country Inn lifestyle.
We provide lodging, meals and daily horseback riding.
We do not normally provide any other activities, although we can arrange some activities on an "a la carte" basis, such as Murder Mystery games for groups of 8 to 15, rifle shooting or "backyard" trap shooting.
Guests can stay one night or a month!

We enjoy hosting destination, elopement and other small weddings year round
ColoradoRusticWeddings.com
We host groups, such as retreats, bachelor/bachelorette parties, family reunions and just about any other small events year-round
The check list for Travel Advisors to book their clients:
[_] 1. Give us a call (970-224-1222).
[_] 2. We will ask you the following questions:
[_] a. Your name, your agency, phone, mailing address, email, and how you prefer to be paid by us.
[_] b. Who and how will deposit be paid (will the customer pay deposit or the TA?), by credit card or check-in-mail (preferred!)?
[_] c. Dates of intended stays, length of stays. Note we are pretty flexible, but our Summer Dude riding program is based on a set of classes which usually start on Sundays or Wednesdays. In the fall, winter and spring people may check-in and check-out any days.
[_] d. Names and ages of all family members.
[_] e. Active Military or Non-Rider 15% discounts?
[_] f. Mailing address, cell phone number, email address.
[_] g. Special needs (as RN's, we are comfortable with folks who have special medical or developmental challenges).
[_] h. Special or therapeutic diets (vegetarian, vegan, gluten-free or allergy, "picky-eaters" favorite foods, etc.) We can meet just about any dietary request, but the grocery store is 50 miles away, and we MUST have time to plan.
[_] i. Birthday, anniversary, or other celebrations (or any other excuse to serve a cake with a candle)? Favorite cake (or dessert)?
[_] j. Ranch airport shuttle service?
[_] k. Any other details that can help us delight these guests?
[_] 3. Together we will review rooms/suites available for those days and decide which which family members will be in which rooms/suites.
[_] 4. Together we will calculate the total reservation fee, TA commission, and deposit. TA commission Commission is based on total lodging fee before retail taxes. We can not pay commission on taxes, liquor, gift shop, airport shuttle, Massage Therapy, or other "add-ons.")
5. We bill guests the balance of their total lodging fee when they check out and we pay you!
Ellen & Dan Morin
Sundance Trail Ranch
17931 CR 74E (Red Feather Lakes Road)
Red Feather Lakes, CO 80545
Call or Text Anytime: 970-224-1222
www.SundanceTrail.com
office@sundancetrail.com
Aspen Grove Destination Weddings & Events at Sundance Trail Guest Ranch
970-556-5053
ColoradoRusticWeddings.com
Email Aspen Grove Events & Weddings