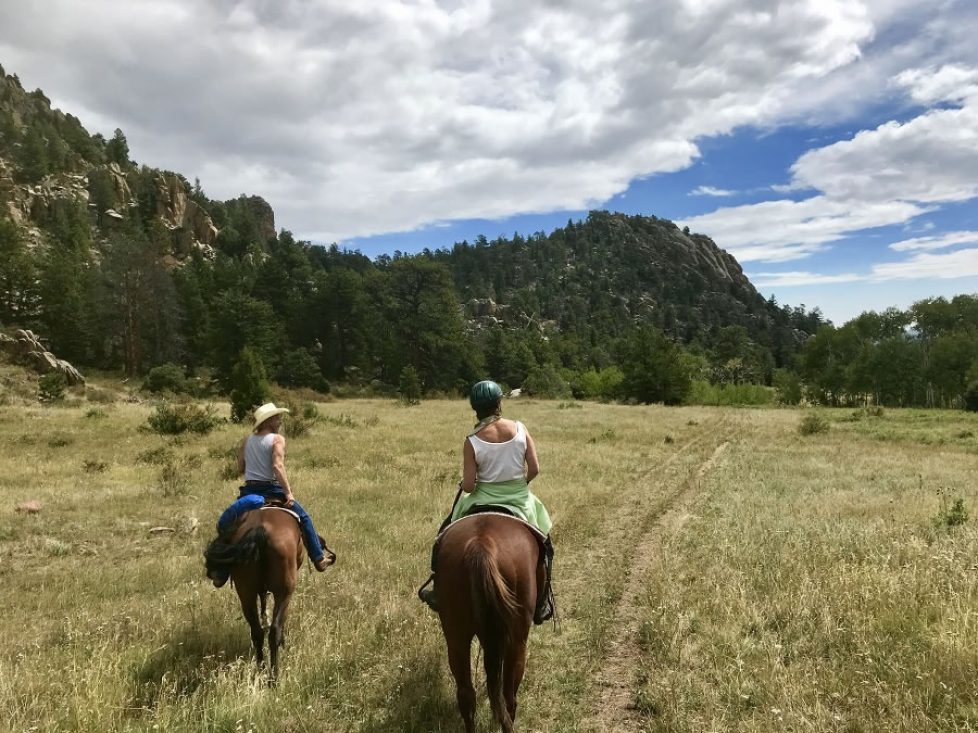 Quick Tips
Looking for more info on our Colorado Dude Ranch? Here are some tips for travel agents looking to recommend us.
Sundance Trail Ranch
17931 CR 74E (Red Feather Lakes Road)
Red Feather Lakes, CO 80545
Call or Text Anytime: 970-224-1222
www.SundanceTrail.com
office@sundancetrail.com
"The harried urban dwellers find new calm as they trade offices, subways, and traffic for saddles and mountains. Ranches are a refuge where ragged, exhausted people can recover their health and vigor." [The Dude Rancher, vol. 6 #7, 1938!]
How do you choose? Well, it just so happens we have an article you might enjoy: How To Choose the Right Colorado Dude Ranch for your Family. Also, read others' reviews from TripAdvisor and Face Book.
What Makes Us Different?
Size – we are the smallest Colorado Dude Ranch, which allows us to be more flexible in meeting special needs, and more relaxed in our lifestyle. This can be the ideal spot for your
family reunion.
Trail Riding Program – based on our love of teaching. We accept riders of all skill levels, and we challenge them all! Beginners welcome, but know that this is not a nose-to-tail program. Coaching is available for the proficient, if desired.
Pet friendly – bring your horse or your dog.
Family Orientation – Our summer children's program is designed to help families play together. If
you are looking for a children's "drop-off" program, this is not the Colorado guest ranch for you.
Wheelchair friendly – because the owners are both RN's, we have suites that are wheelchair
friendly, and we are very comfortable with children who have special needs.
Close to the Airport. From Denver International, you can be here in less than 2 hours.
Even more information on What Makes Us Different!
Summer Colorado Dude Ranch Vacation:
Horseback riding on National Forest Trails
Horseback Riding Lessons
Mountain hiking
Rock Climbing and Belaying Lessons
Seasonal white-water rafting
Nearby trout fishing
Mountain Bikes
Resort Level Golf nearby
Target & Trap Shooting
Professional massage
Archery & Tomahawk Throwing
Dedicated kids program and activities
And… of course…. Hammocks!
Fall, Winter & Spring Country Bed and Breakfast:
iMurder Mystery Week-ends
Romantic get-Away Weekends
Small Group Retreats
Horseback riding in the National Forest
Horseback Riding Lessons
Mountain hiking
Nearby trout fishing
Enjoying a book on a sunny porch
Disc Golf
Target & Trap Shooting
Year Round Family Reunions –
A family of 20-24 has exclusive use of the entire ranch!
Kids can ride horses, and play in a safe dude ranch environment with acres and acres of room to
roam.
Our wranglers will provide a mix of structured activities and unstructured free time.
We do the cooking and the dishes and the cleaning – moms can relax and even play
Separate suites for each family for quiet times, and comfortable common areas for visiting.
Denver International Airport, in the heart of the United States, is easy to reach from just about anywhere in the world.