Covid Safe Family Vacation –
What You Can Expect When you Arrive
We are open, as we are in a unique position to be able to provide a safer environment for your get-away vacation! Come get dirty and tired (and maybe a bit saddle sore)! Our covid safe family vacation guidelines:
The Covid Virus is a little photocopier. All it does is collect the building blocks of RNA from cells that it invades, and makes copies of itself, which, in turn make more copies, which make more copies, a new generation every 20 minutes or so. That's 72 generations every 24 hours – do the math!
This virus does not have legs or wings. It cannot hop or crawl or fly by itself. It is carried and spread by people. It likes lungs- it is mostly spread by in the normal microdroplettes that we exhale with every breath, and then inhaled by the next host.
Having Covid and being Covid-contageous are two different things! The virus is transmitted by people who have no idea that they are contagious. People who are infected are contagious long before they have any symptoms. One out of three of the folks who are contagious never show any Covid symptoms.
Without testing, it is impossible to know if another person is Covid-contagious! Also, without testing, it is impossible to know if YOU are Covi-contagious! So we treat everyone, including ourselves as Covid-contagious.
The newer varieties of the Covid virus are VERY contagious. We vaccinate & mask & social distance to slow this transmission down, so our hospitals are not overwhelmed and to give us time to learn new treatments. We are buying time.
These guidelines may be more conservative than you are practicing at home. Our guests come from all over the USA. Some from places with lower infection rates, some from places with higher infection rates. Here are some of the ways that we are protecting you and ourselves:
1. Our Rider Profile and Waiver are now paperless! [Click here]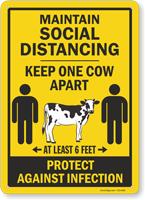 2. We are happy to take your temperature at any time without charge.
4. Some guests prefer to not have housekeepers clean their rooms every day, some prefer that housekeepers just replace towels. If you prefer to not have housekeepers tidy your room daily, please tell Ms. Ellen or Ms. Jeffery.
5. We practice social distancing of at least 6 feet with a smile. Riding on horses (or cows) automatically gives you social distance (except when mounting and dismounting).
Dining tables are 6+ feet apart, one "household" per table. Dining room and parlor windows are open and ceiling fans are run to keep air circulating – expect these rooms to be cool and dress as needed.
"Households" folks who live together. We do not mix folks of different households. Guests often choose to sit with new friends who are not "household." We respect your choices.
6. We wear masks when we get close or when inside a building – when mounting & dismounting horses, when watching the safety video, when playing foosball or shooting pool, when paying.
We don't know if we are contagious. We wear masks and socially distance to protect others from the virus – a simple consideration, a common courtesy.
Guests, please bring and wear masks whenever we get close or inside of buildings.
A virus does not have political, philosophical, personal or religious beliefs. It just steals RNA from cells and makes copies of itself.
11. When you come to the barn to ride, please wear your mask until you are mounted on the horse. When returning to the barn, please mask while wranglers help you dismount.
12. You are welcome to help brush or tack horses before your ride. Please bring your personal sanitizer and use before handling any equipment or tack.
We have written these Covid safe vacation guidelines to provide you with a safe and fun get-away experience, to allow you to get very dirty, pretty darned tired, and maybe a little bit saddle sore!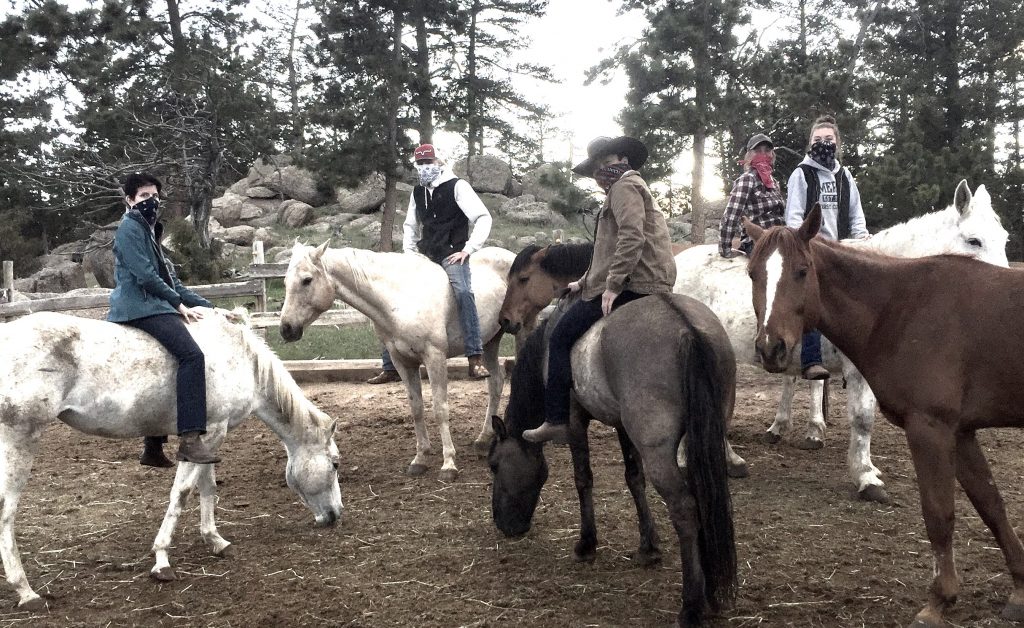 Ellen Morin, RN, BSN, MSN (Owner)
Dan Morin, RN, BSN, MPH (Assistant Owner)