Covid Safe Family Vacation –
What You Can Expect When you Arrive
We are open, as we are in a unique position to be able to provide a safer environment for your get-away mini-vacation! Get out of the city, get away from the crowds. Come get dirty and tired (and maybe a bit saddle sore)! Our covid safe family vacation guidelines:
The Covid Virus is a little photocopier. All it does is collect the building blocks of RNA from cells that it invades, and makes copies of itself, which, in turn make more copies, which make more copies, a new generation every 20 minutes or so. That's 72 generations every 24 hours – do the math!
This virus does not have legs or wings. It cannot move or hop or crawl or fly by itself. It is carried and spread by people. It likes lung tissue – it is mostly spread by in the normal microdroplettes that we exhale with every breath, and then inhaled by the next host. (There are other ways that it can travel to a new host as well, including a variety of hand-to-nose routes.)
The virus is transmitted by people who have no idea that they are contagious. People who are infected are contagious long before they have any symptoms. One out of three of the folks who are contagious never show any Covid symptoms.
Without testing, it is impossible to know if another person is Covid-contagious! Also, without testing, it is impossible to know if YOU are Covi-contagious! So we treat everyone, including ourselves as Covid-contagious.
The Covid-virus is VERY contagious. We mask and sanitize and wash hands to slow this transmission down, so our hospitals are not overwhelmed and to give us time to learn new treatments. We are buying time.
Under the supervision of two RN's, here are some of the ways that we are protecting you and ourselves (Covid safe vacation guidelines):
1. Our maximum number of guests is approximately 50% of our capacity.
2. Our Rider Profile and Waiver are now paperless! [Click here]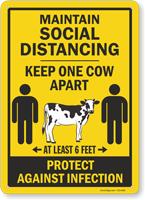 3. All staff are screened daily for fever or symptoms of COVID19. We are happy to take your temperature at any time without charge.
4. We clean & disinfect "high touch" common areas frequently. This includes dining room tables, chairs, door knobs, light switches, television remotes.
Our housekeepers focus on "high touch" areas when cleaning/disinfecting rooms: door knobs, light switches, faucets, drawer pulls, counter and furniture tops and handles of any kind.
Each guest room and most common public rooms are furnished with a bottle of disinfectant spray cleaner and clean rags ("second career towels" which can be disposed of in the trash). When available, disinfectant wipes may be furnished. Please do NOT flush wipes or rags as this can destroy our septic systems. Please dispose of these ONLY in the trash.
5. Some guests prefer to not have housekeepers clean their rooms every day, some prefer that housekeepers just replace towels. We will ask you your preferences when you arrive.
6. Day guests, please use ONLY the public powder room near the dining room. Overnight guests, please use the bathroom in your suite.
7. Please bring your hand disinfectant and use as often as you desire. We have large dispensers located in all public areas of the ranch. We are happy to refill your personal sized bottles of sanitizer if you need.
8. We practice social distancing of at least 6 feet with a smile. Riding on horses (or cows) automatically gives you social distance (except when mounting and dismounting).
9. We eat our meals outside whenever feasible. Dining room tables are 6+ feet apart, one "household" per table. Some dining room tables have been moved to the parlor. Dining room and parlor windows are open and ceiling fans are run to keep air circulating – expect these rooms to be cool and dress as needed.
We no longer eat "family style." All meals are individually plated.
("Households" are individuals, couples, or families who have quarantined together. We do not mix folks of different households.)
"Households" will also enjoy riding and seasonal activities (shooting, rock climbing and hikes) in their own private, separate groups.
10. We wear masks when we get close or when inside a building – when mounting & dismounting horses, when watching the safety video, when playing foosball or shooting pool, when paying.
We don't know if we are contagious. We wear masks, use sanitizer and wash our hands frequently to protect others from the virus – a simple consideration, a common courtesy.
Guests, please bring and wear masks whenever we get close or inside of buildings.
Guests who do not wear masks or follow our Covid safe vacation guidelines can not be served. A virus does not have political, philosophical, personal or religious beliefs. It just steals RNA from cells and makes copies of itself. We cannot risk the health of our staff or other guests to meet your beliefs.
11. When you come to the barn to ride, please wear your mask until you are mounted on the horse. When returning to the barn, please mask while wranglers help you dismount.
12. You are welcome to help brush or tack horses before your ride. Please bring your personal sanitizer and use before handling any equipment or tack.'
Unfortunately, the Jacuzzi is closed.
We have written these Covid safe vacation guidelines to provide you with a safe and fun get-away experience, to allow you to get very dirty, pretty darned tired, and maybe a little bit saddle sore!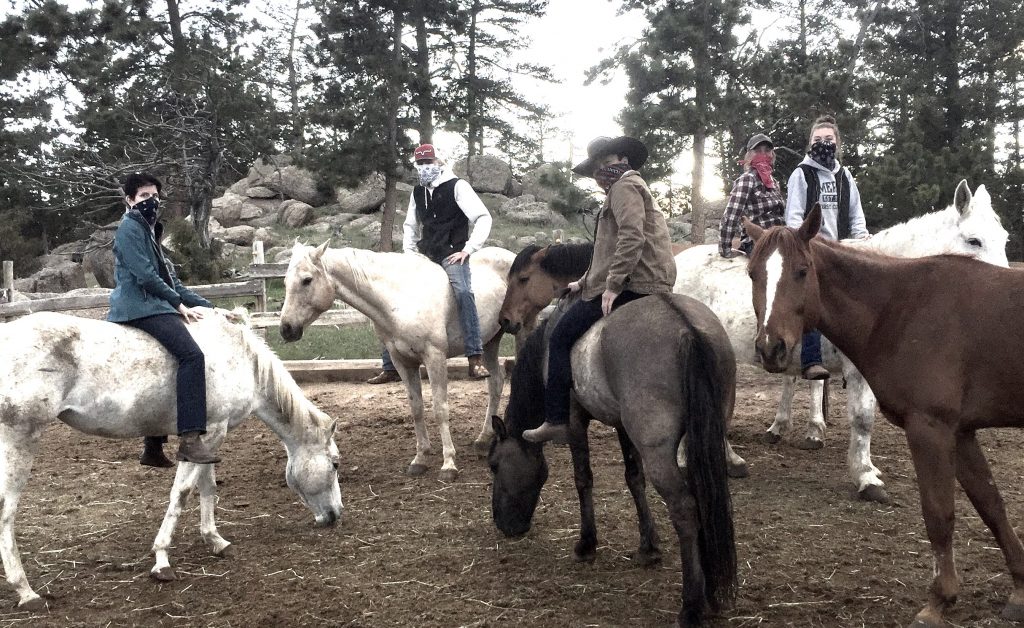 Ellen Morin, RN, BSN, MSN (Owner)
Dan Morin, RN, BSN, MPH (Assistant Owner)