The Facilities Wrangler will be shared between the Barn & The Facilities Managers. This means that some days you may be leading horseback rides while other days may be spent crawling underneath the lodge to fix leaky plumbing. This position doesn't require extensive experience with maintenance, just competence and the desire to learn and work hard. Please review the below duties and abilities to see if you'd be a good fit.
---
DUTIES: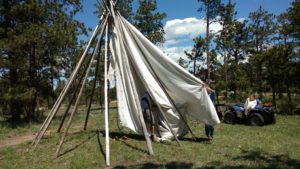 Share in wrangler responsibilities including:

Feed horses 2x/day on rotating basis with other wranglers
Eat meals with guests and entertain throughout day
Catch, groom, and saddle horses for rides after breakfast each day
Lead rides at discretion of Head Wrangler
Tell ranch stories (provided) and entertain guests on rides
Ensure high standard of safety during rides
Current CPR certification
Ensure high standard of horse care
Assist other areas of the ranch are in good order (kitchen, housekeeping) throughout day
Attend evening guest activities
Assist with Saturday afternoon housekeeping

Assist with facilities maintenance including:

Lending a hand to facilities manager when required to fix broken things around the ranch
Light landscaping
Larger construction projects
ABILITIES:
Proficient horseback rider
Basic Knowledge of equine first aid
CPR certified
Outgoing and friendly personality
Self-starter
Customer service minded
Ability to take direction
Ability to work as a team
Honesty and open communication skills
Flexibility to accomplish a wide variety of tasks within a day
Basic carpentry/mechanical/plumbing/electrical (doesn't have to be all but any experience is great!)
Higher level of physical fitness (ability to lift up to 100 lbs)
---
Think you'd be the perfect Facilities Wrangler? Please review our employment expectations before submitting an application. We will be in touch shortly. Thanks!