The Children's Wrangler is one of the most important positions on the ranch. As the Children's Wrangler, you will be directly responsible for the delicate balancing act between fun and safety for all the young people who visit us. Along with the duties of the Plain ol' Fashioned Wrangler, you will display the additional duties and abilities described below.
---
Duties: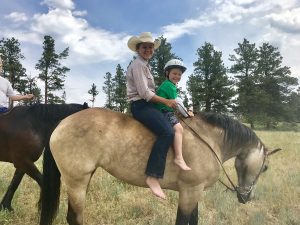 Constructing and maintaining a complete children's program for pre-schoolers through young teens (5 to 15 years old) based on introduction and acquisition of skills including:

fishing, riding, archery, astronomy, baking/cooking, Native American lore, first aide, orienteering, and leather work.

Act as an adviser to those children who are working on Boy and Girl Scout merit badges.
Spearhead the Tuesday night cookout, Saturday family arena games, and all other children-specific activities.
Shares all other wrangler duties listed in the "Wrangler" Job Description including:

feeding on a rotating basis
pulling, tacking, brushing picking feet; etc.
assisting in busing tables and washing dishes, etc.
However the unique responsibilities of dealing with children makes the Children's Wrangler's "fair portion" of chores much less than that of the adult wranglers.
This position is not appropriate for those who are not strong "team players."
Abilities:
Extensive child care and teaching/leading experience
Professional teaching and scouting experience strongly preferred
Valid driver's license and clean driving record (may take children off-site in company vehicle occasionally)
Moderate horseback riding and equine knowledge

Extensive horse knowledge and skills is preferred, as this allows the employee to also assist with wrangling duties

Endless enthusiasm and energy
CPR certified
Outgoing and friendly personality
Self-starter
Customer service minded
Ability to take direction
Ability to work as a team
Honesty and open communication skills – especially with the children and their parents
Flexibility to accomplish a wide variety of tasks within a day
Must be able to perform all of the duties listed in high altitude environment
---
Think you'd make the perfect Children's Wrangler? Please review our employment expectations before submitting an application. We will be in touch shortly. Thanks!