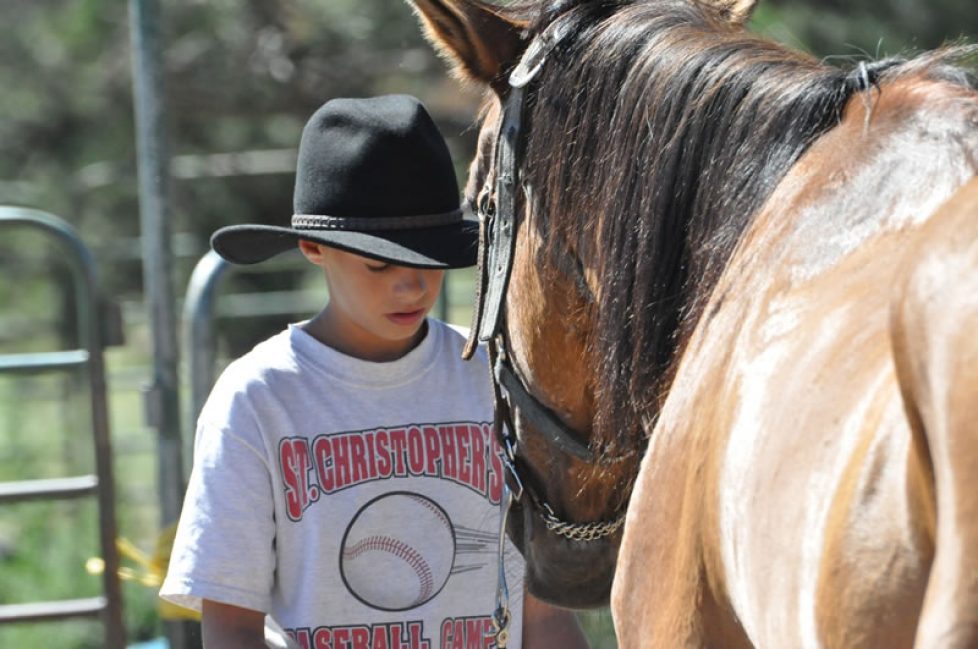 Sundance Trail Guest Ranch is located between Ben Delatour's north fence line and Red Feather Lakes Road.
The Dude Ranch offers two programs for Boy Scouts:
Trail Rides with Instruction
Horsemanship Merit Badge Workshops
Trail Ride Just for Fun!
 This is not a nose-to-tail riding program! All trail rides start with a 30 minute lecture on how horses think and how they talk, followed by arena demonstration and practice. There is no charge for this time.
Each trail riding group is limited to no more than seven riders, one of whom must be an adult. Multiple groups can be scheduled, as staffing allows.
Trail rides are on our property and in the Roosevelt National Forest – the "Minimal Impact Ethic" and "Leave No Trace Rules" are strictly followed.
Please also see Rules and Practices section below.
Contact us for rates
Horsemanship Merit Badge Workshop
We teach a basic three hour workshop that can help the scout fulfill the requirements for the Horsemanship merit badge.
The Horsemanship merit badge cannot be accomplished in three hours. A significant amount of study must occur before attending this workshop to develop the knowledge required. However, the "hands-on" aspects of handling horse and tack, and the fundamentals of riding can usually be learned in three hours.
The workshop consists of the following:
1. Front porch (About 30 minutes)
Lecture & discussion about horse instincts and communication – "How do horses think and how do they talk."
2. Barn (30 to 60 minutes)
Helmets!
Demonstration and student return-demonstration of tack care, picking, brushing, tacking.
3. Arena (30 to 60 minutes)
Riders meet their horses!
Demonstration and return-demonstration of mounting, sitting, starting, steering and stopping.
Practice!
4. Trail (Typically about two hours)
Trail ride with practice of skills learned in the arena
5. If There Is Time after Requirements are filled, back to the Arena for a game of "Bareback Tag!"
Requirements for the Horsemanship merit badge:Do the following:
Describe the safety precautions you should take when handling and caring for a horse.
Describe the fire safety precautions you should take in a barn and around horses.

Name 15 main parts of a horse.
Name four breeds of horses. Explain the special features for which each breed is known.
Describe the symptoms of colic. Name and describe four other horse health problems.
Explain what conformation is and why it is important. Explain the difference between lameness and unsoundness.
Explain the importance of hoof care and why a horse might need to wear shoes.
Demonstrate how to groom a horse, including picking hooves and caring for a horse after a ride.
Explain how to determine what and how much to feed a horse and why the amount and kind of feed are changed according to the activity level and the breed of horse.
Do the following:

Name 10 parts of the saddle and bridle that you will use, and explain how to care for this equipment.
Show how to properly saddle and bridle a horse.
Demonstrate how to safely mount and dismount a horse.

Explain and demonstrate how to approach and lead a horse safely from a stall, corral, or field and how to tie the horse securely.
On level ground, continuously do the following movements after safely mounting the horse. Do them correctly, at ease, and in harmony with the horse:

Walk the horse in a straight line for 60 feet.
Walk the horse in a half circle of not more than 16 feet in radius.
Trot or jog the horse in a straight line for 60 feet.
Trot or jog the horse in a half circle of not more than 30 feet in radius.
Halt straight.
Back up straight 4 paces.
Halt and dismount.
Preparation for the Workshop
It is expected that the scout will have accomplished the following before arriving. Note that we cannot accomplish the entire merit badge in three hours. If the scout arrives without this preparation, we will asses his preparation, and begin there.
1.  Print and complete sections 1 through 9a. of the Horsemanship Merit Badge Workbook ( Updated June 2017). Bring the Workbook with you.
2. In order to assure that he is comfortable working with an animal that outweighs him by 1,200 pounds, it is highly recommended that the scout have at least one hour of horseback riding experience in the last year before attending this workshop.
3. There are many good books on horsemanship, horse health and horse training. Most public libraries have a good variety of horse books. These are not required, but are our favorites:
Teaching Safe Horsemanship, A Guide to English & Western Instruction, by Jan Dawson (Storey Communications, Inc.).
The Basics of Western Riding, by Charlene Strickland (Storey Communications, Inc.).
Considering the Horse, Tales of Problems Solved and Lessons Learned; by Mark Rashid (Johnson Books, Boulder)
Any/all books by John Lyons
Rules and Practices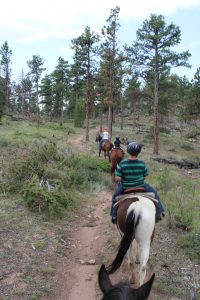 The workshop is taught using the principles of the Dude Ranchers Association Safety Certification program. Before arriving:
Written parental permission is mandatory – we will fax or mail you the form when you book your reservation.
Helmets for minors are mandatory and highly recommended for adult students.
Adults wearing cowboy hats MUST have stampede strings under the chin.
Jeans or heavy long pants are mandatory.
Smooth soled boots or sneakers, NOT large waffled hiking books are to be worn.
If wearing sneakers or short boots, socks long enough to cover ankles are highly recommended. An hour of rubbing a bare ankle (or bare anything) against leather will leave a long, painful memory.
Long sleeve shirts are strongly recommended.
Horseplay and "silliness" are dangerous, and will result in removing the student from contact with horses. (This has never been a problem with scouts!)
Workshop groups consist of no more than 5 scouts per group.
Each group must have at least one adult scout leader.
Each group will have one ranch staff wrangler-instructor. (It may be possible to have more than one group working at the same time.)
Schedule
Workshops are scheduled only by prior reservation. More than one group may be scheduled at at the same time, if ranch staffing allows. Workshops can be scheduled at the following times:
Sunday afternoons from 1PM to 4PM
Thursday afternoons from 1PM to 4PM
Saturday afternoons from 1PM to 4PM (Best!)
How to get here:
You can hike – we share a fence with the Ben Delatour ranch. Just hike north. (But be aware that this is a pretty strenuous 3-5 mile hike!!)
You can drive – Take Boy Scout Road (CR 68C) north to Red Feather Lakes Road (CR 74E) turn left (west) and go about 1 mile.
Shuttle service – we offer shuttle service for $5/person round trip.
Any other questions? Feel free to e-mail or call us anytime!
Call or Text Anytime: 970-224-1222