The Facilities Manager is responsible for all things on the ranch that break (which is most everything!). This person should have some skill in plumbing, electrical, mechanics, and carpentry. You will be responsible for keeping up with the monthly maintenance logs, as well as the construction of new projects on the ranch. Please review the below duties & abilities to see if you'd be a good fit for the position:
---
Reports to: General Manager (Dan)
DUTIES: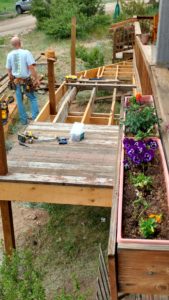 Maintenance of Facilities

Adhere to (or add to) the monthly maintenance calendar in coordination with Dan
Responsible for any unscheduled maintenance tasks (burst pipes, faulty wiring, broken stairs, etc.)
On-call while guests are on-site for emergencies (smoke alarms, clogged toilets, etc.)
Light landscaping and maintenance of grounds.

Management

Work in coordination with other 3 managers + general managers to ensure all tasks are reaching completion in a timely manner and in order of importance
Managing any staff "loaned" to you (you will have one wrangler with maintenance skills who can be loaned to you at the discretion of Barn Manager)

Record Keeping

Maintain a log of completed tasks
Keep immaculate records of all vehicle servicing

Guest Relations

You will (like all other employees) be directly responsible for ensuring guest delight. You will encounter many white-collar fathers and grandfathers (as well as young boys) who will want to get their hands dirty and "talk shop" with you – you MUST display enthusiasm for entertaining these guests and taking time out of your busy schedule to have fun with them!
Attend meals and eat with guests
Attend some evening activities where you will most likely be given beer 😉
ABILITIES:
Prefer lifelong "handyman"
Previous Management experience preferred
Basic knowledge of carpentry, mechanical, electrical, and plumbing work.
Welding skills are a plus
Organizational capabilities
Self-starter
Honesty and open communication skills
Ability to drive a tractor/stick shift
Hospitality minded
Any horse experience is a plus, or desire to learn about horses.
---
Think you'd make the perfect Facilities Manager? Please review our employment expectations before submitting an application. We will be in touch shortly. Thanks!