That's right!  Sundance Trail Guest Ranch has proudly hosted small, intimate weddings and elopements throughout our time in business.  We love sharing these special moments with each couple and look forward to their return for anniversary celebrations and family dude ranch vacations.
A few years back, we saw a need to have a dedicated venue for these events.  Its been a long time in the making but Aspen Grove at Sundance Trail is now open and accepting bookings!
This unique, Colorado wedding venue offers a rustic setting for your small wedding, family reunion, or corporate event.  The flexible spaces combine to create a memorable, photogenic location and our event manager, Chris Hinson, looks forward to working with you to bring your wedding or event to life.
The main carriage house features a flexible, indoor space that can be used for seating, dining, or ceremonies.  The beautiful barn doors and french doors open to the outside to allow an open-air feel and easy access to the courtyard, gazebo, and labyrinth.  A dedicated room upstairs offers a private space for the bridal party to get ready.
Walk out the barn doors and you'll be greeted by the sweet smell of pine and mountain air in our courtyard.  Another flexible space, the courtyard creates a picturesque picnic, dancing, or seating area.
At the opposite end of the courtyard, you'll find a large gazebo perfect for nuptials, band, or the bridal party table.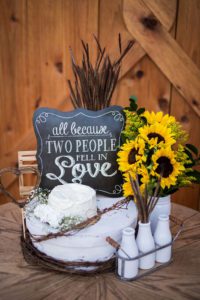 Perhaps the most unique feature of Aspen Grove is the labyrinth.  Traditionally, labyrinths have been incorporated in gardens to provide a private area for thoughtful reflection.  With this in mind, the Aspen Grove labyrinth can offer a peaceful place for the couple to share their vows or walk together as newlyweds for the first time.
In keeping with the Sundance Trail Guest Ranch mission, you'll find no high-pressure sales tactics here.  Our goal is to make your Colorado rustic wedding or event as special as it can be.  We offer catering services directly through our venue and also welcome vendors of your choice.  If shopping local is your "thing," we work with many local vendors who would love to be a part of your wedding or event.
Check out our website to find out more about Aspen Grove at Sundance Trail or follow us on Instagram, Facebook and Twitter.  We would like to send a sincere thank you to all of our customers and friends for their support of this project and we look forward to helping you plan your Colorado mountain wedding or event!