A 2 Day/1 Night Wellness & Wilderness Connection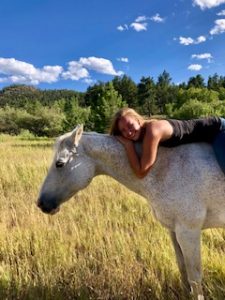 Sundance Trail Guest Ranch is an exceptional destination for Healing Workshops and Retreats, featuring wide open spaces, a variety of accommodations and lots of amenities which offer participants a safe  experience that will leave them feeling refreshed and rejuvenated.
Led by Suzanne Carter, MA who provides a safe and supportive environment for exploring and resolving obstacles to growth and well-being, this retreat is focused on Equine Assisted Psychotherapy (EAP). Suzanne has concluded that horses are relationship masters. When visiting with clients at the ranch where her horse had lived with 24 other horses, she shares with them the goal is to learn to become more like the horse. Usually, the response from children and teens is something like: "cool" though from adults, she often gets weird looks. But the truth is, horses are relationship masters and here's a few reasons why.
R: Rope

E: Elevate from the ego

L: Love

A: Attention

T: Time

I: Instinct

O: Oneness

N: Now Moment

S: Serenity and Safety

H: Harmony

I: Inner knowing

P: Prey

Details:

Friday & Saturday, May 7-8, 2021
All-Inclusive, rate includes overnight accommodations, all meals, activities and horseback riding.
Rate: $300
Fill out the form below to learn more and to make your reservation